Hey Dolls!
My sister was going out and she had the cutest dress on. The top of the dress was a heart shaped and black and the bottom of the dress was flowy and full of little hot pink flowers. So, I used a Hot Pink MAC pigment on her lids and added a little purple. I also had to take a little advantage and add some lashes because my sister doesn't like liquid liner or lashes and she was in a really good mood because she let me do both.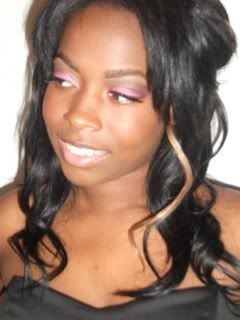 FACE
CG Queen Collection Liquid Foundation in Q730 Warm Caramel
MAC Studio Fix in NW45
MAC LoveRush and MAC Fever Blush
BROWS
MAC Eyebrow pencil in Stud
MAC Espresso eyeshadow
EYES
MAC Shadestick in Crimsonaire
MAC Bright Fuchsia Pigment
MAC Handwritten eyeshadow
MAC Sketch eyeshadow
MAC Arena eyeshadow
MAC Fluidline gel liner in Blacktrack
Red Cherry #48
LIPS
MAC Mad Cap Lipglass
'til next time Dolls!
xoxo
keisha